Help ban live horse export
Did you know that Canada ships horses overseas for slaughter? The journey is cruel - multiple horses are loaded into one small crate, and are without feed, water, and rest for more than 20 hours. Over 54,000 Canadians have already told the federal government that horses deserve better, have you? If you haven't already, sign the petition before June 18!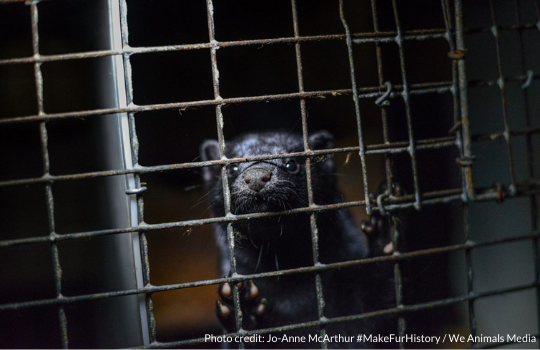 Have you voiced your concern to end fur farming?
Thank you to everyone who has already contacted their MLA and the Minister of Agriculture to call for an end to fur farming - your voice matters! Over 20 nations worldwide have already taken action to end fur farming once and for all. If you haven't yet, please ask the provincial government why we haven't done the same.
---
Thinking of backyard chickens?
Raising backyard chickens can be a great source of cage-free eggs. But is it the right fit for you? Ask yourself these important questions before making a decision.
How are fish farmed in Canada?
Learn more about the various species of fish that make up Canada's aquaculture industry, how they are farmed, and the welfare issues that they face.
---

The British Columbia Society for the Prevention of Cruelty to Animals (BC SPCA) is a non-profit organization funded primarily by public donations. Our mission is to protect and enhance the quality of life for domestic, farm and wild animals in British Columbia. BC SPCA Charitable Registration No. BN 11881 9036 RR0001

On behalf of all the animals we care for and protect, thank you for your support.
Unsubscribe | Login |

Contact Us

| Donate | Website
FarmSense includes news about farm animal welfare issues, research results, and information on the BC SPCA's activities that help farm animals in B.C. We welcome your comments and suggestions on FarmSense content. Did someone forward this newsletter to you? To stay informed on all things farm at the BC SPCA, subscribe at spca.bc.ca/farmsense.