Become one of our Pawesome Supporters!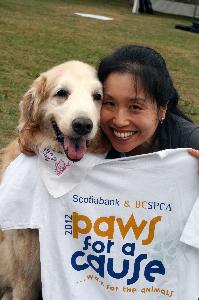 Located in 34 communities around the province and with thousands of participants, the Scotiabank & BC SPCA Paws for a Cause would not be possible without your hard work! To join us in raising a million dollars towards saving animal lives, simply register, set up your personal fundraising page and get started today! For more information on making a great page that shares your passion and reaching out to friends and family check out our Unleash Your Paws Potential Fundraising Guide!

The funds you raise stay in your community to help local animals in need of help.

Looking to get involved in a different way? Check our volunteer , sponsor, and workplace pages.

Anyone can make a difference in the lives of animals. Start with something simple. Become a fan of the Official BC SPCA Paws for a Cause page on Facebook or follow us on Twitter to keep up with all the latest news!
Come see your donations at work!
The BC SPCA invites you to visit your local SPCA for an animal-themed day of fun this month. Open House events, presented by Hill's® Science Diet®, will take place on Saturday, May 25 from 1 to 4 p.m. at most SPCA locations across B.C.
For more information about the Open House series, visit spca.bc.ca. For more information about Science Diet®, visit hillspet.ca.