All donations to your walk starting June 14th go towards unlocking 500k for the animals!
Last year the BC SPCA conducted almost 10,000 new cruelty investigations.
This is a staggering number, and one that continues to rise. The animals need you to help fight cruelty. Donations to the BC SPCA help fund cruelty prevention and education programs, and the enforcement of animal cruelty laws. Show your support and join the walk to fight animal cruelty. Register today.
Together We Can Make a Difference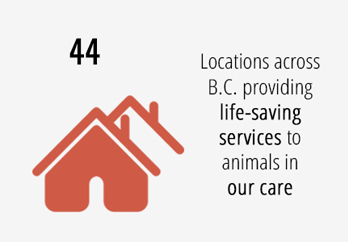 Walk with us
Every September, thousands of animal-lovers in 20 communities across B.C. raise funds and walk to fight animal cruelty in the Scotiabank & BC SPCA Paws for a Cause.
Learn how you can join the fight in 15 seconds.