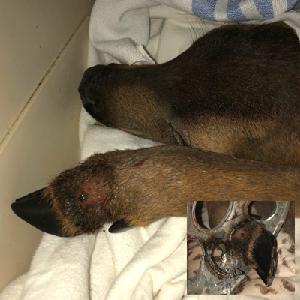 This poor, young deer found himself in quite a tangled mess. He somehow managed to get three of his legs stuck in a metal poultry feeder and couldn't get himself out. Jeff Krieger from Alternative Wildlife Solutions (an AnimalKind accredited company) was dispatched to rescue this deer and managed to free one leg from the feeder.
He was in critical condition when he arrived at Wild ARC and staff had to use metal cutters and mineral oil in order to remove the feeder to free his other two legs. His feet were quite swollen and he had severe lacerations on his two front legs near the hooves which made suturing the wounds impossible. He is on strict regimen of antibiotics to ensure the wounds don't become infected but monitoring his condition is complicated as deer who come into care as his age can suffer from severe stress which can actually be fatal. Deer are also incredibly strong and can cause a lot of damage to themselves or others when they panic so highly trained staff at Wild ARC will have their work cut out for them to get this deer back on his hooves again.
Your donation can help support the care of this deer and ensure he gets back to his family where he belongs. Please consider donating today.
View More