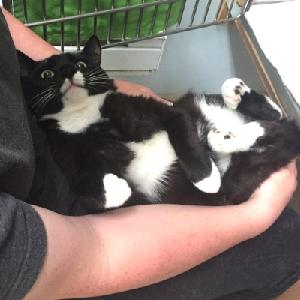 Jo is a loving, sweet, quiet young man. He is a domestic short hair, black and white cat that came from a home with several (20 or so) other cats. He was very fearful when he came to us, but has come a long way and is very social now.
Jo, has had to have several urine analysis and our vet is still determining what is causing his pain when he urinates. Jo will require more testing and injections weekly to help with his UTI issues.
Despite his constant pain (though the meds are hopefully helping) this adorable kitty has really come out of his shell. Help Jo get better and off to find his forever family by donating today.
Personal updates for Jo will be provided to anyone who donates to his campaign.
*Goal includes: surgery, medication, vaccinations, regular health check, and daily care for Jo until he's ready for adoption. If his medical costs and cost of care is less than is raised in his name, additional funds will provide care for other animals.
View More