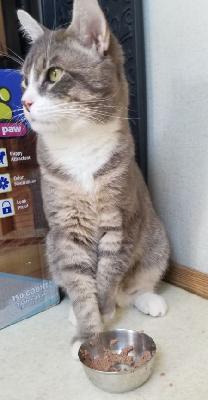 At only a year old, Theo has osteoarthritis in his front right elbow making the limb useless and very painful. This was a 100% preventable since the arthritis was due to an injury that became infected in the elbow and Theo never got the medical care he needed.
Poor Theo has not lived without pain most of his life. He cannot put any weight on it without it being very painful. After x-rays and Vet consultations, it was determined that amputating the leg was the best outcome for Theo.
Theo is a super love bug! He is very social and loving and likes other cats and dogs. He is very handsome and has the most magnificent tail. Theo lived outside most of his life and he is ready for a safe and comfortable home.
Please help him get healthy enough to find his forever home by donating today.
Personal updates for Theo will be provided to anyone who donates to his campaign.
*Goal includes: surgery, medication, vaccinations, regular health check, and daily care for Theo until he's ready for adoption. If his medical costs and cost of care is less than is raised in his name, additional funds will provide care for other animals.
View More