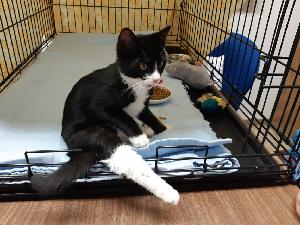 Four month old Zazzles arrived with a horridly broken hind leg. The leg had been dislocated at the hip joint and broken lower down the leg close to the ankle joint. The lower portion has multiple bite injuries. It is unknown if a larger animal caused the injuries or if Zazzles has been chewing on his lifeless limb:( Sadly their is NO repair possible for Zazzles extreme leg trauma and he will require his leg to be amputated.
Zazzles is oblivious to his injuries and still tackles life's obstacles with enthusiasm and purrs :) Lots of purrs! He is ever so snugly and despite his leg trailing behind him he runs like he's in the Indy 500!
This little boy arrived as an injured stray in need of vet care. The finder believes he was thrown from a vehicle as he "just appeared one day dragging himself through the yard."
Zazzels is full of love and enthusiasm and will make an amazing addition to a family once recovered.
Please help this little kitten see a future by donating to his surgery & care today.
Personal updates for Zazzles will be provided to anyone who donates to his campaign.
*Goal includes: surgery, medication, vaccinations, regular health check, and daily care for Zazzles until he's ready for adoption. If his medical costs and cost of care is less than is raised in his name, additional funds will provide care for other animals.
View More