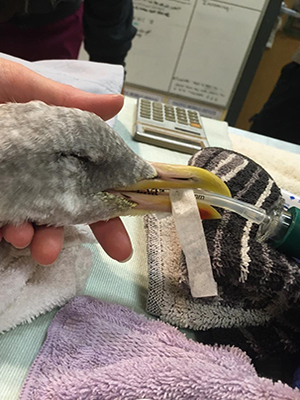 This helpless Gull was found bleeding and unable to stand on a beach near the Fort Rodd Hill area.

When a concerned member of the public saw the injured Gull, they contacted Parks Canada staff to assist in containing and rescuing the injured bird. Once the bird was safely contained, it was brought to Wild ARC for care. It is suspected that this injury was caused from a dog attack.

Upon assessment, lacerations were found that went deep into the Gull's shoulder muscle. The Gull was sedated so staff could further examine and repair the gull's wounds. Upon further inspection, the shoulder had been punctured and pieces torn out.

Continued treatment, flight tests and a surgery will need to be performed to make sure that the lacerations and punctures fully heal. The Gull will need to be monitored regularly to make sure that it is improving and no infection forms from the injuries.

We encourage pet owners to make sure that dogs are kept on leash while going for walks in nature and especially in designated on-leash areas. On-leash bylaws are important and exist in parks and designated areas to protect our wildlife and help us to successfully co-exist with one another.

To help us care for this Gull and assist in our efforts to return it to the wild, please consider partnering with us financially to make this possible.
View More